Living history
The records are long gone, but the people of Tampa's Harlem Academy keep its story alive.
By MICHAEL MOHAMMED
Published January 26, 2007 in the St. Pete Times Floridian
For more information visit www.sptimes.net/2007/01/26/Floridian/Living_history.shtml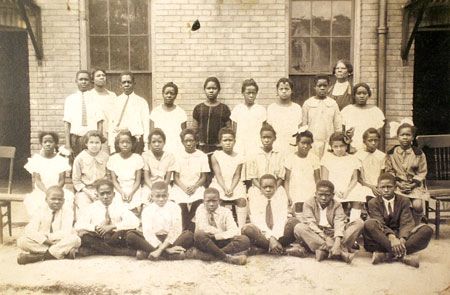 In the early '70s, cracks appeared in the facade of an old three-story building in downtown Tampa. It was soon demolished. Until 1965 it had been the Harlem Academy, Hillsborough's first school for blacks. Integration and busing made it obsolete. Last month, dozens of alumni gathered at a banquet at the University of South Florida. They shared memories of a togetherness virtually unknown in today's schools. And of the prejudice that once permeated the lives of black children. The school's history stretches to Reconstruction. It starts with the Freedman's Bureau, a federal agency established to help freed slaves adjust to new lives. Sometime around 1871 the Bureau erected Tampa School No. 2 at Harrison and Morgan streets. Rechristened Harlem Academy, the school eventually was housed in a pale three-story building that went up between 1910 and 1912. Most of the school's records disappeared when it closed in 1965. To figure out what the school was like, we rely on the memories of the living.


[Times photo: Daniel Wallace]
Moses Darby recalls never having a new textbook while going to school, and that his favorite teacher would visit each student's parents every semester.
Moses Darby
The academy developed its own sense of history - and discipline that worked. 
Moses Darby first walked to school with his brothers in 1931. They lived in the Garrison, an all-black neighborhood where Channelside now sits.
He was 6. Harlem Academy was a mile and a half away.
"The white kids had county buses," he said. "We walked, happy as a lark."
His books were battered and handed down from the white kids, but Darby loved Harlem.
"When they gave us a book we had to be so careful with it," he remembered. "I have yet to have a new book going to school. Never did, the whole time."
He still remembers his favorite teacher, Miss Lomas.
"She went to each student's house to see their parents, once a semester," he said.
Harlem's teachers meted out strict discipline.
If you acted out, he said, "you got your a-- whupped. If you were late for school, same thing, the principal would give you a couple of raps, so you didn't mess around."
But as Darby got older, injustice became harder to ignore. He noticed his history books contained barely a whisper about slavery.
"We had to dig it up ourselves," he said, from the library.
He finished school in 1943.
He went to war. He spent three years in Europe. On the ship home his all-black unit rode back in steerage, "just like the slaves."
He got back to Tampa and decided he'd had enough of the city's segregation.
"Two battles and I come back and I can't ride on the front of the trolley."
Within two weeks he left for New York City. He made a living, marched on Washington with Dr. Martin Luther King Jr., fell in love, raised two children.
And finally, in 1985, he moved back to Tampa.
Darby turns 82 next month. He lives alone, surrounded by framed pictures of his late wife, two children, four grandchildren and eight great-grandchildren.
Despite his fondness for Harlem Academy, he thinks education for blacks has improved steadily since the '30s. He has never had patience for complainers, even during the turmoil of integration.
"You can't sit there and blame the teacher for not teaching you 'cause you are black," he said. "She can't teach over you or by you."
Darby dotes on Harlem's flaws as much as its strengths.
"The spot they picked was across the street from the graveyard, a block from the city jail, next to the church, with the trolley running in front of it," he said, and laughs.
"But Harlem Academy was a blessing, I'll tell you that."

Ms. Doretha Edgecomb 



Doretha Edgecomb 

Teachers were strong role models for students.
Doretha Edgecomb remembers a day in the fall of 1951 when she smelled the scent of baking cinnamon buns at Harlem Academy. She was 8. Now she is 63, but the scent still puts her back in her grade-school desk.
"As an adult, if I smell a cinnamon bun, I remember my days at Harlem," she said.
That smell is one of her few remaining links to that time. There are no records to search, no class rings to wear.
"I regret," she said, "that there aren't a lot of artifacts to validate the rich history of the school."
Edgecomb's mother, Sarah Wynn, taught at Harlem for 24 years. Edgecomb grew up surrounded by her mother's friends - other Harlem teachers.
"For many years I thought all those women were my relatives," she said.
Those teachers, she said, were role models who were tenacious under the conditions in which they taught.
"They really made us feel as if we could be as good as anybody else. There was a lot of encouraging and motivation," she said.
"What we experienced was very special in some ways, but it was also very limiting," she said. "We understood that we couldn't go to this movie theater, we understood that when you went to downtown Tampa there were certain parameters and behaviors in which you had to operate."
Edgecomb is the only black member currently on the Hillsborough County School Board. She thinks integration has improved Tampa's schools, though children have lost some of the best aspects of schools like Harlem.
"There is kind of a barrier between teachers and students," she said. "I think part of that is not how our schools are different, but how our society is so different."
She credits the qualities she formed at Harlem with her success in shaping education in Tampa.
"I'm not talking about reading, writing, arithmetic," she said. "I'm talking about integrity, hard work, self-reliance."
Marie Sheehy
Students were the priority for the dedicated staff.
It was the early 1960s. Marie Sheehy double-parked in front of Harlem Academy because she couldn't find a spot. She climbed the rickety stairs, afraid she would fall.
Those were Harlem's last years, but it retained its dignity.
"It was dilapidated," she said, "but the school was clean. Very clean."
As a reading specialist, Sheehy visited Tampa's black schools, coaching teachers to maximize their resources. They recruited her to help the slowest students catch up. She spent three days a week at Harlem.
Sheehy was young and most of Harlem's teachers were old. She worried her advice would offend them.
"They welcomed us," she said. "They treated you so nice and they were so cordial."
Joseph Valentine Sheehy, her husband, served as principal.
"My husband was an exact person. All he wanted was for you to do your duty and come to school and be on time," Marie Sheehy said. "I don't ever remember a day that he was late."
Joseph Sheehy's respect for duty didn't stop him from clashing with the system.
One day, Harlem awaited a delivery of 35 new desks and chairs. The school had raised the funds with donations from the community.
The truck arrived and workmen brought in chairs that clearly had seen better days. Joseph Sheehy stopped them.
"He asked the guy, 'Where are you going with those second-hand seats?' " Marie Sheehy recalled. "He said, 'I'm sorry, but you put 'em right back on that truck and take 'em back wherever you got 'em from.' "
One day, her husband noticed a shoeless student.
"He came in to tell me that he wanted me to take this little girl to buy shoes," she recalled. "He would give them money, he would buy them clothes."
Like virtually everyone who spent time at Harlem, she called it a family.
"I felt like I fit in."
. For more profiles on Harlem Academy alumni, see Page 3E.
On the Web
For more photos and memories from Harlem Academy, go to links.tampabay.com.
by Amy
06/29/07 02:07 PM
Thank you the Sheehy Family and the late Principal Val Sheehy for his dedication to education and his community.
by Lydia
05/12/07 02:15 AM
This is the first I have heard about THE HARLEM ACADEMY. Thank you . I grew up with your son. It was wonderful hearing your voice again, and your story.
by Douglas
02/13/07 03:52 PM
He is the BIG MAN ON CAMPUS now!!! My Grandpa. When I grow up I want to be just like him!!! ( I am 36 right now lol). Like My father, Moses makes me feel proud to be Black and to be a DARBY!!! My Kids will be taking this article to school to read.
by TAMMIE
02/06/07 04:50 PM
THIS IS A VERY INSPIRATIONAL STORY. I NEVER HEARD ANYTHING ABOUT THE HARLEM ACADEMY, UNTIL READING THE ARTICLE ABOUT IT IN THE NEWSPAPER. KEEP GIVING US THE THE TRADITION OF BLACK HISTORY. I WOULD LOVE TO HEAR MORE ABOUT IT. THANKS!
by Melvin
02/03/07 02:04 PM
Thank you for your most insightful and informative article "Living History" on Tampabay.com. I was especially gratified to read the article see the picture, and hear the voice of my Father-in-law Moses Darby.
by William
01/26/07 08:26 PM
I attended Harlem Academy. Thank you St. Pete Times for a snapshot of American History during the time of segregation in Tampa,FL. Race has always been a part of our history. We were fortunate to have Mrs. Joseph who believed in our capabilites.
by Paul
01/26/07 08:07 PM
We do have schools that carry on the tradition of excellence. Academy Prep Centers in South St. Pete and Ybor City (which is historical rebuild of the original grammar school in Ybor). These student live up to expectations. www.academyprep.org
by Loretta
01/26/07 05:18 PM
It everything to do with race, that no new textbooks were ever put into the hands of black students. The policy was to hand off the very worn out books from the white schools. Black schools had a broom and box of chalk in HillsbCo.Budgets a fraction.
by Paul
01/26/07 03:42 PM
It had everything to do with race and race based-budget allocation. There's not much equivalency between rural Pa. and urban Tampa. My dad attended school(20's & 30's) across the bay at Gibbs with no/ditch-off texts from St.Pete High...Equivalency??
by Angela
01/26/07 02:27 PM
WOW! I would love to learn more about the Harlem Academy. I think this is an inspirational story.
by DOROTHY
01/26/07 11:48 AM
SO,HE NEVER RECEIVED A NEW TEXTBOOK!WELL,I CAN ASSURE YOU IT HAD NOTHING TO DO WITH RACE!I ATTENDED A ONE ROOM SCHOOL IN RURAL PENNSYLVANIA IN THE THIRTIES AND EARLY FORTIES,AND THE TEXTBOOKS THERE WERE USED BY GENERATIONS BEFORE US.
by Wayne
01/26/07 10:44 AM
Children today, as always, are for the most part simply a reflection of their parents. It is high time for many parents to be more involved in the rearing and guidance of their children.
by Cheryl
01/25/07 11:17 PM
It would be a blessing to have schools today like Harlem Academy was over 67 years ago. Black students valued education and saw it as a means f progression, even if their resources were used. Children today are disrespectful and unappreciative.